SHAPE Sony FS7 Lightweight Platte
This small baseplate was designed to be used with the Sony FS7 or FS7M2 camera shoulder pad. Compact and lightweight, this is a perfect baseplate for a run & gun solution for your FS7 or FS7M2. This plate will allow you to mount different accessories with the front rods, and you can use the standard Arri rosette on each sides to attach a remote extension or a telescopic handle with our red Push-Button technology (HAND3).
Underneath is a 'delta' quick release wedge which is fully compatible with all standard 'VCT' tripod adaptor plates. The wedge can be removed to expose standard 1/4″ and 3/8″ threads for mounting on other tripod plates.
15 mm Rod Baseplate for Sony FS7M2, FS7


Maintains FS7M2's or FS7's Shoulder-Mount Design


Arri rosettes for attaching handles or remote extension handles


V-Lock Adapter Plate Included


1/4"-20 and 3/8"-16 Camera Screws


15 mm Rod Pair (8")
Weight: 0,50 kg

Dimensions: 9,53 x 7,62 x 3,81 cm

Material: Aluminum

Warranty: All SHAPE products and accessories are covered by a manufacturer's warranty solely on CNC machined parts.
1 x SHAPE Delta Baseplate with 15mm Rod System and Arri Rosette Mount

1 x SHAPE pair of 15mm Rods 8" (SH15TUBE8)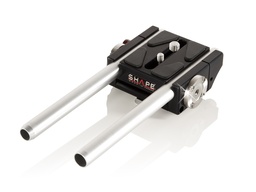 SHAPE Sony FS7 Lightweight Platte
379.21

 €
379.21

 €

netto UVP
451.26

 €

451.26

 €
brutto UVP
379.21

 €
netto UVP
379.21

 €
Option nicht verfügbar